7 Things Your Solar Farm Needs from an Excavation Team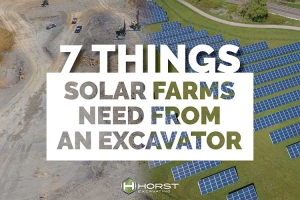 Large-scale solar energy systems require a team with specialized skillsets—from the developer to the solar engineer and installer to the excavator and everyone in between.
While all these specialized teams are essential to the success of a new solar farm, we're going to focus on the sitework crew in this blog.
Excavators are responsible for more than just moving some dirt around. Their work sets the stage for your entire project. From land clearing and site prep to grading and trenching, they create the foundation on which the solar farm will sit.
Mistakes made in the sitework phase of your solar development can plague the rest of the project. Choosing the right excavating team can help you avoid costly mistakes, leading to a smooth project process and a long-lasting solar farm that produces emissions-free electricity for decades.
Here are 7 things to look for when selecting an excavator for your solar farm:
1. Experience with Underground Utilities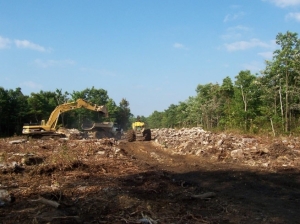 Solar farms require a plethora of safe and reliable underground cables. These cables are the arteries that carry live electric currents from the solar array to the inverters to the distribution panels. Without them, the electricity generated by your system won't get to the homes and businesses that need it.
When choosing a site work contractor, make sure they have experience with installing and working around various types of underground utilities. You'll need a team that can recognize the differences in a site's soil composition and rockiness and can adjust their approach and the equipment used to dig the trenches accordingly. They'll work with electrical teams to ensure cables and wiring are properly insulated, grounded, marked.
Learn more about Horst Excavating's underground utility services here.
2. Skilled at Earthwork & Land Clearing
Whether it's a forested greenfield site or a previously developed plot, you'll need a team that can quickly and effectively clear the way for your solar array. They'll also need to efficiently create service roads for trucks and other equipment to move about the site as the project progresses. Towards the end of the project, the temporary construction routes will need to be replaced with permanent access roads that allow for monitoring and maintenance.
They also need to know how to properly work the land to ensure the solar panels can be properly installed for a long-lasting system, handling everything from stormwater drainage to grading of the land. They should also be able to take care of or advise on proper ground cover to keep the land beneath and between the arrays safe, be that vegetation, gravel, or something else.
3. Experience with Renewable Energy Projects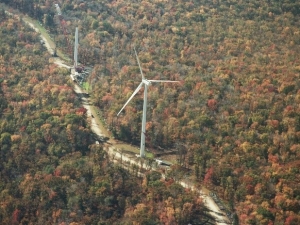 Ask your prospective excavators to provide information on previous alternative energy projects. This can include other large-scale solar projects, as well as wind turbines, geothermal, and hydroelectric plants.
Previous work in renewable and alternative energy suggests they'll have extensive and useful knowledge that can benefit your project. It's also helpful to work with a sitework team familiar with regulations and requirements from government agencies and utility companies.
Take a look at Horst Excavating's experience with renewable and alternative energy.
4. An Interest in Project Planning
In our 60+ years of providing excavating services, we've seen time and time again one of the key markers of project success is a collaborative environment from the project's very start.
The more specialty contractors willing to get involved in the planning process, the better. During the planning stage, an excavator can bring valuable knowledge and insights to the table as the project plan is being formed. This will decrease the likelihood of site-related issues down the road, which can cost money and take time.
5. In-House Crew & Equipment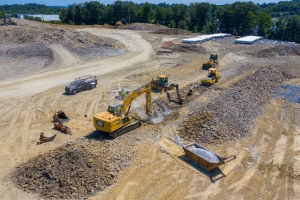 When clearing acres and acres of land, you need a team that can stay mobilized and get the job done, paving the way for subsequent stages of the project. On a large-scale project, this requires dependable access to skilled labor and specialized equipment.
In today's construction environment, one of the best ways to assure access to equipment and an in-demand workforce is to choose an excavator or sitework contractor that has their own team and their own equipment fleet. This eliminates the uncertainty of the subcontractor and equipment rental markets.
At Horst Excavating, we have a fully stocked fleet of equipment and an experienced team that can mobilize to get your work done.
6. Great Testimonials, Reviews, & References
As with any contractor on a construction project, one of the best ways to get a sense of their quality of work is to see what past clients are saying about them. Reviews, testimonials, and references all give you insight into what it's like to work with a company.
With the internet, finding this information has never been easier. But instead of relying solely on online reviews, reaching out the old-fashioned way may be the most beneficial. Ask them for contact information for references from past projects. You can call past clients and get a more candid response. And if the reference's project is like yours, they may even have other insights that can help your project along.
7. Licensing, Bonding, & Insurance
This one may go without saying but's it's worth mentioning because of how important it is. Don't just take for granted that a company with a professional-looking website has what is required to work on your project. Solar farms are expensive, large-scale projects that require a substantial upfront investment. Excavators will be working in highly technical environments and installing expensive equipment.
Make sure the excavating teams you're considering have the licensing, bonding, and insurance needed to work on your solar farm.
Building a Successful Solar Farm
Creating a successful utility-scale solar site takes a large team of specialized contractors. While it's easy to focus on disciplines like solar engineers and electricians, don't overlook the importance of having a trustworthy and experienced excavator and sitework contractor.
Choosing the right excavating team will make the construction process easier. From our experience to the way we approach our projects, Horst Excavating can help your team create a dependable and long-lasting solar farm.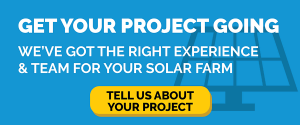 Posted February 21, 2022