Contractor Selection Checklist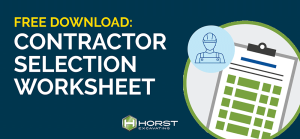 Choosing the right sitework and excavating specialist will start your project down the road to success. That said, knowing which team will deliver the best value, quality of work, and support for your project can be daunting.
Thankfully, we've created something that helps demystify this process.
Our one-sheet checklist will help you focus on the criteria that really matter, so you can narrow down your options and work with the contractor that's best for you. Fill in the form below to get it for free!
Posted June 09, 2023