Horst Excavating Hires Several Key Employees
Horst Excavating has added several key new employees to their team over the past few months – 5 new employees to be exact! This dedication to growing our team has been spearheaded by the addition of David Thornton, new Human Resources Partner at Horst. David was previously employed at Wohlsen Construction as the Training & Facilities Manager for 12 years. David spent 21 years in the Navy, working as a Naval Flight Officer.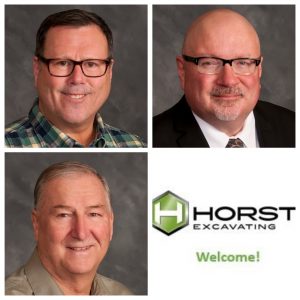 Top left – David Thornton, Top right – Paul Edling, Bottom left – Jim Lefever
Since coming on board in October, Dave has been working to streamline Horst's hiring process and has facilitated the addition of several new team members. Paul Edling was brought in as Horst's new Safety Specialist. Paul holds a bachelor's degree in Occupational Safety & Industrial Hygiene Management, as well as a master's degree in Human Resource Management. Paul has spent the past 25 years cultivating his career in Occupational Safety. Jim Lefever joined the team in the role of Estimator. Jim comes to Horst with 23 years of experience as an estimator for both public and private work. He has worked recently in residential and golf course site development, as well as heavy highway site construction for Pennsylvania Department of Transportation.
Last but certainly not least, Horst Excavating has also hired two new field employees over the past several months: Maxim Antipin and Andrew McGallicher.
Posted March 01, 2019