Overlap in Values Creates Long-Lasting Partnership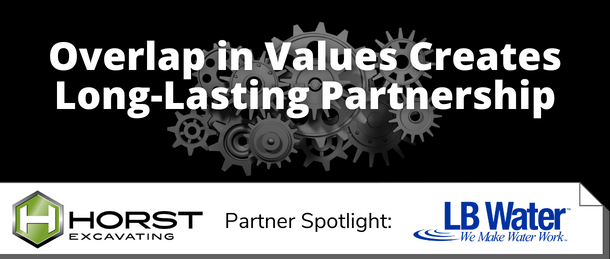 Partner Spotlight: LB Water
In the construction industry, pairing with the right partners can make all the difference. Horst Excavating's commitment to our mission, Building What Matters to You®, means that we know your building project is a means to an end. We understand that you have your own mission and vision to fulfill, and your physical site is a significant contributor to setting you up for success.
One of the benefits of working with Horst is our dedication to selecting partners that bring expertise, collaboration, and value to our clients and our projects. We like to get to know our existing and potential vendors to gauge their level of expertise, collaborative mindset, and added value to a project team. When the project allows, we like to include partners that share our principles and with whom we've built trust and mutual respect via multiple projects.
In our first ever partner spotlight, we introduce you to LB Water – a longtime valued partner of Horst Excavating, with whom we have completed over 70 projects in the past 15 years.
___________________________________________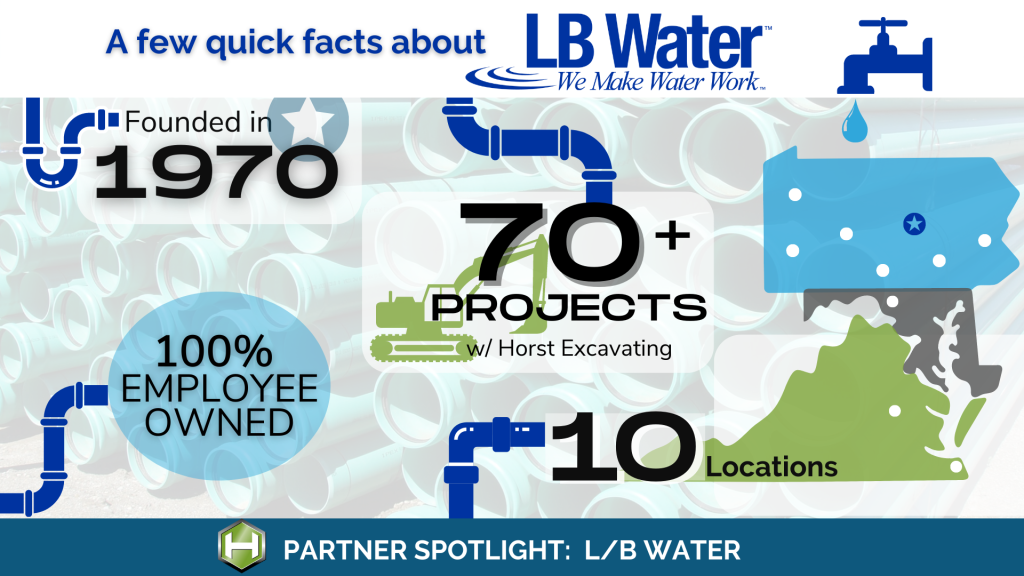 When it comes to supplying construction materials, there are an abundant number of vendors that can bid a set of documents and provide an estimate number. Then there are those who consistently go the extra mile, taking personal responsibility to bring solutions for us and for our clients.
LB Water is of the latter, demonstrating their expertise, attentiveness to details and understanding of the big picture throughout their working history with Horst.
LB Water is a waterworks materials supplier with ten locations throughout Pennsylvania, Maryland, and Virginia. Beyond their robust product inventory and exceptional industry knowledge, they also share Horst's dedication to solutions-based approaches for our clients.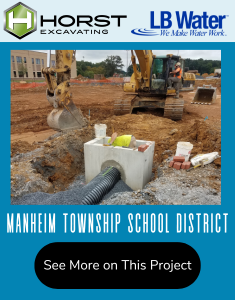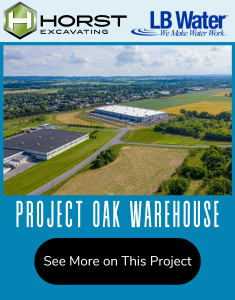 Their focus and tagline go hand-in-hand; they Make Water Work™. While they fall under the category of a supplier for Horst Excavating, we have come to greatly appreciate their partnership in evaluating a variety of solutions and options for our clients in a more detailed and intimate approach. They have demonstrated their expertise and trustworthy insights on a wide variety of projects from large industrial complexes to schools and everything between.
Another way LB Water's business methodology mirrors our own is in their emphasis on values such as honesty, integrity, and open communication. These values are more important now than ever in the construction industry. In a time where limited supply-chains and dramatic inflation are the norm, having an honest and trustworthy team that can freely share information is key.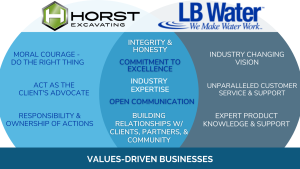 Both Horst and LB are committed to earning our clients' trust every day, on every project. We believe in the importance of giving accurate, quality information you can trust when making important decisions. We believe in the client's right to knowledge and being honest when we identify potential hiccups. But we also take the time to determine alternatives and provide insightful suggestions and solutions that are in the client's best interest.
Quality partnerships benefit our clients most of all. We conscientiously select teammates that bring value to the project. Transparency, good communication, and expert knowledge can only help the entire project team operate at the highest level of efficiency and excellence.
___________________________________________
Posted July 20, 2022