What Does an Excavating Contractor Do?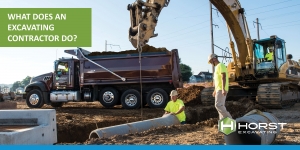 Excavating contractors are responsible for creating a construction project's site. They literally lay the groundwork for the project, turning an empty field, abandoned lot, or existing building into a bustling construction site.
From clearing the site to digging the building's foundation and utility lines, excavation is one of the first physical steps on a construction project. But excavating is much more than just digging holes and moving around dirt. The excavator plays a vital role in the success of the construction project and the long-term functionality of the completed project.
Therefore, it's imperative to work with a full-service excavator experienced in a variety of services, so the firm can tackle whatever is thrown their way.
Anyone in the construction industry will tell you complications arise. Whether that's contaminated soil, water pipes placed in areas not conducive to the project, softer-than-expected soil, or tricky stormwater issues, having a reputable excavator that has the tools and expertise to tackle these challenges head-on can save time, money, and a lot of stress.
So, without further ado, here are six services excavators take charge of on a construction project.
1. Project Planning & Preconstruction
Just like many other specific construction trades, excavation is only one of the many moving pieces that make up the entire construction project. That's why a good excavating firm needs to look at the bigger picture to truly understand how to best complete their portion of the project. To do this successfully, it requires effort up front in the project planning and preconstruction process as they lend their valuable insight in their area of expertise.
Everything from foundation-digging to soil compaction to erosion control needs to be analyzed and discussed early on. This helps ensure that the project can move ahead without disruption and result in a well-built and long-lasting structure or road.
2. Site Excavation
Site excavation includes land alteration, grading, and drainage correction. These services essentially prepare the construction site for the new structure or road. Excavators carve out the building's precise foundation and make certain that the ground is dense enough to support the weight of the structure. If the soil is too loose, they will use compactors to compress the dirt, ensuring a stable foundation for the project
In some instances, a project will require more involved grading and land alteration. Excavators have the tools to literally change the site's landscape, flattening unwanted inclines, creating attractive and interesting terrain, or optimizing the direction of water drainage on the site.
3. Underground Utilities
Underground utilities are an essential part of any modern building, and their installation requires a precise and skilled excavator. Horst's team handles sewer systems, storm drainage, water mains, forced water mains, water services, and retention systems for above ground or underground use.
From digging the trenches to laying and connecting pipes to repair damaged or outdated systems, excavators must minimize disruptions and work accurately. And as with all aspects of excavating, it's essential that teams take the utmost care to make sure they don't interfere with any existing utility lines while digging.
4. Road & Infrastructure Construction
There's a lot that goes into creating new or enhancing existing roadways. From earthmoving, utilities, and drainage to concrete structures and paving, these services all fall under the umbrella of many excavators.
What's beneath the paved surface of a road is just as important as the asphalt or concrete we drive on. A stable foundation with bumps leveled and dips filled, dense and compressed dirt, and properly designed drainage is essential for a long-lasting road.
5. Erosion Control & Soil Remediations
From wind to the rainwater running off built environments, excavators can implement various practices that manage stormwater, helping to prevent everything from water pollution to soil loss to habitat and human property loss.
In some areas, erosion control is mandated by local municipalities. Excavators need to understand the nuances of these stipulations and present solutions to their clients. Whether it be physical barriers, retention basins, or one of the many other methods of controlling soil erosion on your site, excavators will help keep pollutants out of the water supply and the building's landscaping looking as it was designed. Similarly, excavators often perform soil remediation, neutralizing, or removing potentially hazardous soil from a construction site.
6. Demolition & Land Clearing
Not every site is a wide-open field primed for construction. Some sites require a little extra work before the real work on a building begins. Whether it's tearing down existing manmade structures or clearing vegetation, excavators can turn an existing site into a construction site primed for work with demolition and land clearing services.
It's important that excavators do all clearing safely and efficiently and can handle the disposal of the teardown debris.
Giving Buildings a Solid Foundation
These services all contribute to providing a solid base for the rest of the project. No matter how beautifully designed or expertly crafted, a building or road built on shaky ground will fail.
Excavators play a vital role in the construction process, from project planning to digging and moving dirt to laying utilities and building roads or parking lots.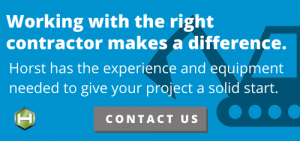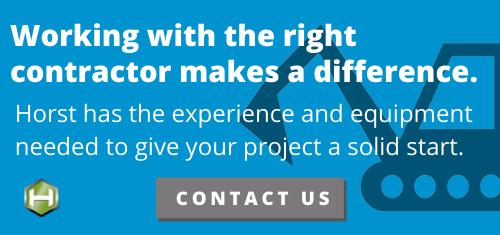 Posted July 02, 2020