Why Subcontractors Love Working with Horst Excavating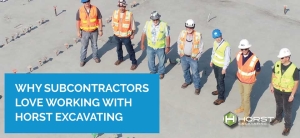 From difficulty finding and hiring talent to increasingly stringent government and safety regulations, subcontractors face several challenges when working on a project and managing their business. As subs ourselves, we believe your contractor shouldn't be one of those problems.
For over 60 years, Horst Excavating has taken a relationship-based approach with our subcontractors. It's earned us the reputation for treating them fairly and creating a successful team.
From ensuring you're paid on time to communicating efficiently, there are a few reasons subcontractors like working with Horst Excavating. Because of these successful relationships, we have a strong network of fantastic subcontractors we invite back time and time again. We're always looking for other subcontractors that bring value to the table to add to that list.
Read on for a look into what a partnership with Horst Excavating would be like for your business.
1. We Pay On Time
We work as subcontractors too, so we understand how frustrating it is when payments get delayed, or you have to spend hours of your time talking with contractors just to get what you've earned.
With 60+ years of building established, long-lasting relationships throughout the business community in Central Pennsylvania and the Mid-Atlantic states, we've developed a reputation for paying subcontractors when they expect to be paid and under the agreed-upon contract terms.
Our solid, prudent leadership ensures Horst's financial stability, so you can rely on us for payment per the contract's stipulations.
2. We Communicate Clearly
From owners to the Horst team to subcontractors, communication is essential to the success of any project. At Horst Excavating, we recognize and embrace this.
We're all on the same team working towards the same goal. Hoarding information is never helpful to anyone. That said, we live in a time where we're bombarded with information, and unnecessary communication can result in unnecessary stress. Finding the right balance can be tricky.
We'll ensure the proper amount of communication is maintained throughout our partnership from the very beginning. Before the project starts, we like to meet with our subcontractors to discuss the project and your scope of work in person, if possible. That way, expectations are clear from the beginning, and any questions can be immediately addressed.
We'll also discuss our safety protocols, potential logistical challenges, and anything else that could be beneficial to the team.
As the project continues, we'll involve subcontractors in any meetings where their insight could shed light on the topic. Meeting minutes will be collected and dispersed so key take-aways are easily accessible. We also use technology and tools that make communication quick and easy, ensuring all project teams stay on the same page.
3. We See You as a Partner
We believe in treating all of our partners fairly and respectfully. It's as simple as that.
Horst Excavating is a values-based company that holds true to what we believe and is committed to doing the right thing, even when it's not the easiest.
Having healthy relationships with subcontractors helps bring success to the entire project, and to every team involved in the project. We build our relationships on the foundations of trust, mutual respect, and integrity. This creates a project environment that's much more pleasant to work in, and it creates projects that are successful.
4. You'll Have a Voice
As a subcontractor, you're an expert in your field. You may see things others do not. This has immense value for a project, as it lets the team see opportunities or potential threats that others missed.
On a Horst Excavating project, our ears will always be open to your contributions.  Due to contract restrictions, owner requests, or other factors, we may not always be able to implement every suggestion, but we'll certainly be open to hearing them. We value your expertise and understand the benefit of learning from one another.
5. We Don't Always Go with the Lowest Bidder
In the extremely competitive excavating and construction industries, there's no denying that price is an important factor when selecting a bid. But it certainly isn't the only factor that's important, at least not to Horst.
We understand that quality, safety, and experience come with a price. Doing something the right way, both in craftsmanship and safety, will often take more time, more experienced personnel, or both.
When choosing which subcontractor to recommend to our clients, we take a big-picture look at value, considering more than price. Experience, quality, safety, knowledge, materials, methods, and creativity can all bring immense value to the project.
Because of our relationship-based approach, we often solicit subcontractors we've worked with in the past for new opportunities. In jobs that are negotiated or design-build, we'll select the subcontractor based on many factors, not price alone.
A Partner with Horst Excavating
If you work on a project with Horst Excavating, we'll value your input and expertise. We'll compensate you fairly for the work you do. But most importantly, we'll treat you like a partner.
We're always looking to expand our network of trusted subcontractors and forge new relationships. Take a look at our subcontractor's registration page to sign up.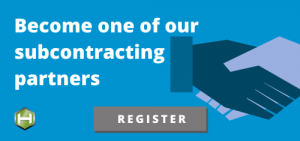 Posted September 14, 2020