Why Your Excavator Should Be Using Photos & Videos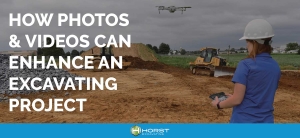 From providing essential documentation on the site's progress to catching the attention of thousands on social media, images and videos play an important role in a construction project. This rings true for the entire phase of the project—from the sitework to the building's final punch list.
Below, we'll share how excavators use various types of media to make the entire project process better for owners and the project team alike.
6 Popular Types of Imagery for Construction Projects
There are many ways to utilize photographs and videos to benefit your project. With technology changing and advancing, it's becoming easier and easier for people of all backgrounds and skill types to capture the project. It can be as simple as snapping pictures with a cell phone, or as advanced as a professional, multi-camera setup with lighting. Here are common ways project teams capture the progress on a construction site:
    1. Point-and-Click Photography
From professional shots to in-house images taken with a cell phone, there's a lot of information a still image can portray. Whether for marketing purposes or project documentation, this tried-and-true way captures progress quickly and effectively.
2. Videos
Videos are another way to document and market the progress of a project, whether produced by a team of professionals or created with in-house resources. Videos can tell the story of your project by depicting active work, interviews with the project team, and more.
Technological advancements have made the creation of quality videos much more approachable, and video-prioritization changes to social media algorithms make it easier than ever to get seen.
3. Timelapse Cameras
Timelapse cameras take images to capture work as it progresses throughout the project. They're typically installed in a way that shows a large portion of the site and remains for the duration of the project. They're great at showing what work is completed when, and it can help out-of-town leadership keep tabs on the project more easily. They also make for great marketing material, with all the progress shots condensed into one sped-up video.

4. Drone Photos and Videos
Drones give project owners and the team a bird's-eye view of the project. Some excavating companies, like Horst, have in-house drone capabilities, and others can hire drone specialists to document the site.
5. Wearable Cameras
Wearable cameras can offer a unique and creative perspective on the work taking place on site. Equipment operators can attach a camera and give a unique perspective on the work behind the camera, or someone can do regular walk-throughs around the site to show progress.

6. 360° Images
These specialized cameras capture 360° images, giving owners and the project team a complete look at the project or a specific area. These cameras are great for the building portion of a project, but teams can also use them during excavating to document sitework in a more complete way.
3 Ways Imagery Can Improve Your Construction Project

1. Site Overview and Supervision
Drones give us a bird's-eye view of the project's site, offering an overarching perspective most project teams wouldn't otherwise be able to see. This information can be invaluable to site leadership and the owner alike, offering a real-time look at the sitework progressing on the job.
While seeing the project from this vantage point is helpful for projects of all sizes, it's essential on large sites. Superintendents can use this technology to travel the project in just a few minutes, documenting the work along the way. Even in a vehicle, traveling from one end of a large project to another can take away valuable time better spent running the project.
Talk to your excavating team about how to access these progress photos. Whether through a project report issued on a regular basis, files shared on cloud storage, or something else entirely, they should be able to accommodate your needs.

2. Maintain Records
Not only can photography and videography make monitoring the project easier, but it's also great for documenting progress and maintaining records. While the project is progressing, the excavating team can share these updated pictures with the owner, general contractor, and other project stakeholders.
Because the excavator is one of the first contractors on site, it set the stage for the rest of the project. Additional work can begin once the excavator meets its milestones. If the excavator shows its progress with detailed imagery, the general contractor and project manager can better plan the rest of the project.
Additionally, these images and videos will serve as historical records for your project. Depending on timing, they can show exactly where things are located below grade, including pipes and new utility lines.
These progress pictures can also be useful in the event of any litigation or warranty claims. While neither is common, unfortunately, issues can arise no matter how conscientious, effective, or attentive a project team is. But a project with extensive and detailed imagery can be invaluable in this situation.
Visual documentation can help show the timing of project milestones, responsible parties, and more. Not only can this help avoid conflict and disagreements before they escalate, but it can also lead to a quicker solution.
3. Marketing Your Project
As a bonus, progress photos and videos can be used to drum up excitement for your project or new building.
From action shots and videos of the construction equipment shaping your site to overarching views of the project, imagery is great content for everything from social media accounts to advertisements to press releases. Using these eye-catching images and videos to communicate information about your project to general or targeted audiences increases brand visibility.
Studies show that posts featuring photographs perform much better than text-only posts, and videos do best of all. As our appetite for digital content shifts and videos become the standard, social media sites are prioritizing these, meaning your video could earn a larger audience than a text-based or image post.
Pictures of your project will ignite curiosity and spread the news of your new building.
Capturing Your Project
Images and videos alike have significant benefits for your project. Partnering with an excavating team that embraces this and has the capabilities to complete this will enhance the entire project process.
At Horst Excavating, we have both in-house capabilities and professional media partners available. This allows us to provide cost-conscious and consistent services throughout the project at whatever level is appropriate.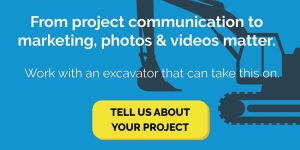 Posted August 16, 2022