Sitework that creates a foundation for success
Successful projects begin with successful sitework. Excavation contractors kick off the project and literally create the foundation upon which your project will rest. That's why it's so important to partner with an experienced, dependable team that can get the job done right.
For over 60 years, general contractors, developers, government entities, and private organizations have trusted Horst Excavating to provide top-notch sitework services for their projects in Central Pennsylvania, Maryland, and Delaware.
Whether we join the team during preconstruction or just before breaking ground, we help our clients prioritize their needs to match the schedule and budget. Let us help you set your project up for success.
Tell Us About Your Project
Note: At this time, we do not work for individual homeowners on residential projects. We do not rent, service, or sell excavating equipment.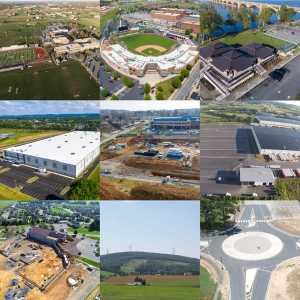 Our Services
From planning and design through project completion, we deliver high-quality, efficient, and safe excavation services in a cost-conscious and mindful manner. Project Planning &
Preconstruction Land Development Underground Utilities Road & Infrastructure
Construction Erosion Control &
Soil Remediation
Demolition &
Land Clearing