Are Rain Gardens a Good Solution for Stormwater Management?
Special thanks to Harbor Engineering, a full-service landscape architecture firm, for their thoughts and insights on this blog.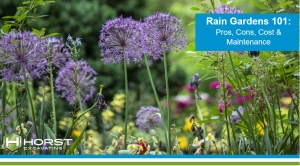 As rain runoff travels to storm drains, rivers, and throughout our watersheds, it picks up pollutants and sediment along the way. Soils, fertilizers, pesticides, and other pollutants can wreak havoc on our waterways and cause poor water quality in our communities.
To mitigate these troubles, many states and municipalities have enacted legislation to regulate how stormwater is managed. As a result, a variety of green infrastructure solutions are becoming increasingly popular to filter runoff, improve erosion and sedimentation control, and reduce flooding. One of these methods is the rain garden.
WHAT IS A RAIN GARDEN?
A rain garden is a type of basin that is designed to capture and infiltrate stormwater runoff. A shallow depression is lined with an easy-draining soil mixture of topsoil, sand, and compost. Hardy native plants are then planted in this basin. Stormwater runoff collects in the garden, is filtered through the soil, and is slowly released back into the ground. Berms surround the perimeter of the basin to keep the rainwater in the designated area.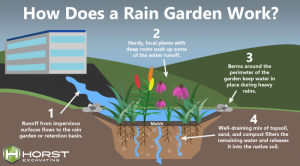 Unlike detention basins, which hold back and release runoff at the surface, or retention basins, which maintain a permanent pool of water, rain gardens are designed to dewater through both infiltration and evapotranspiration.
Infiltration and detention basins are often larger, have less plant material, and look more like a meadow instead of a structured garden. Rain gardens, however, are typically smaller and place a heavier emphasis on aesthetics. In addition to improving water quality and reducing runoff, they're designed to be an attractive and eye-catching space.
RAIN GARDEN BENEFITS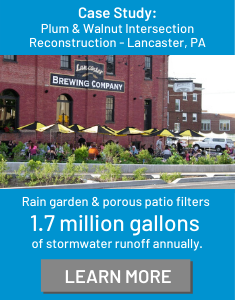 Stormwater Management
One of the biggest benefits of rain gardens is its ability to absorb a significant amount of water. Experts estimate these drainage systems can soak up 30% more water than typical grass[i]. Not only does this help prevent flooding, but it diverts pollutants for a cleaner water supply.
In a recent project, Horst Excavating used rain gardens to transform a dangerous and uninspiring intersection in downtown Lancaster into an attractive and environmentally friendly setting. At the corners of Plum & Walnut Streets, native plants and a porous patio minimize rainwater's impact on the city by filtering 1.7 million gallons of stormwater each year.
Creates a Memorable Outdoor Space
Greenspaces have been shown to reduce stress, increase productivity, and even improve health[ii]. Whether you're designing a new office building, a senior living facility, or a church, everyone can benefit from some time in nature.
Designing an attractive rain garden is an effective way to include more greenspaces in your project. A variety of native plants also attract butterflies, hummingbirds, and other wildlife.
However, one insect a properly designed rain garden will not call home are mosquitoes. Mosquitoes love standing water, but a functioning rain garden should not hold water long enough for these pests to settle in.
DISADVANTAGES OF RAIN GARDENS
Rain gardens and retention basins have few downsides, so long as they're properly designed and constructed.
If your rain garden is not functioning properly, you may have issues with drainage. Rainwater runoff will accumulate in the basin, which can lead to backups and flooding. An improperly designed basin can also lead to increased erosion rates.
To ensure this doesn't happen, Horst Excavating conducts dual-ring infiltration tests to confirm that the design's infiltration rates are consistent. This means you won't end up with a large piece of oversaturated land. To avoid these headaches down the road, be sure to select an excavating team that has experience in installing rain gardens and retention basins. To check out our experience, take a look at some of our projects here.
HOW MUCH DOES A RAIN GARDEN COST?
The cost of a rain garden varies greatly, depending on your site and your goals. As a rule of thumb, you can expect to pay between $5 and $40+ per square foot for a rain garden.
There are a few different factors that can drive up the cost of a rain garden or retention pond. The makeup or design and the plants you choose to include in the garden will impact price. If you opt for simpler components, it will stay on the cheaper side, though drainage and filtering will not be as good. If you opt for compost, sand, and aggregate, the cost can go up. If you plant mature flowers and bushes, you'll likely pay more than if you opt for a seed mix with local grasses and wildflowers. One of our favorites is Ernst Seeds' Rain Garden Mix for its biodiverse formulation that provides an excellent combination of perennial forbs and grasses.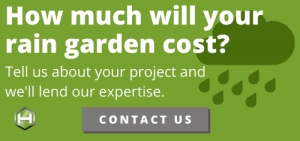 The location of your rain garden and the status of the soil on the site will also impact price. Things like soil remediation or removal of obstructions will drive up the cost per square foot. Additionally, different materials have varying costs depending on where your project is. One item where you may see an increase in price is sand. If your project is near the coast, sand can cost significantly less than if you live further inland.
Another factor is the size of the rain garden itself. The deeper the basin, the higher the cost. The larger the rain garden is, the more labor it will require to install and the more materials you'll need to purchase, all of which have obvious cost implications.
HOW TO GET STARTED WITH A RAIN GARDEN
Where Should a Rain Garden Be Located?
It is always best to consult with a professional to determine the most beneficial location for your rain garden dependent on your property and overall goals. But the following guidelines may help you get an idea of where to place your rain garden.
As with any garden, placement must consider the types of plants you are including and their individual sunlight needs. For your garden's plants to take hold and thrive, this factor must be part of the planning process and should help shape the decisions of both location and plant or seeding selections.
You will also want your garden to be put in a location where it can catch the runoff from your property. Oftentimes, this is downhill from impervious surfaces. However, be sure to stay away from septic fields, wellheads, or areas that are prone to sinkholes.
What Are Popular Plants for Rain Gardens?
Most rain gardens include a mix of perennials, shrubs, grasses, and even trees that are native to your local area and can thrive in moist soil. This may include plants such as joe pye weed, switchgrass, and scarlet bee balm.
If you are looking for a large and more cost-effective stormwater management solution, a retention basin meadow may be your best bet. Seed mixes designed specifically for stormwater management will include a variety of perennials and grasses that encourage biodiversity.
HOW DO YOU MAINTAIN A RAIN GARDEN?
Some routine inspection and maintenance is required to ensure your rain garden is functioning properly. If you opt for a true rain garden with an attractive and diverse selection of plants, maintenance will mostly be in line with the type of work you'd expect for a traditional garden.
You'll have to keep an eye out for weeds and the overall health of the plants. Once a year, you should replenish the top layer of mulch. During droughts, you'll have to water the plants in order to keep them happy and thriving until the rains return, especially in the first year while the plants are young.
If you opt for a simpler rain garden with grasses and wildflowers, there will be less maintenance. Depending on the seeds you select, you may have to mow the basin once a year. Pay careful attention to the recommended guidelines, as cutting the plants too often or too short could kill them.
Whether you opt for a garden or a simpler basin, you'll want to keep an eye out for sediment deposits, removing them with a shovel or other proper equipment as necessary. You want to ensure any waterways, gutters, or downspouts that send water to your rain garden remain unobstructed so water can flow freely.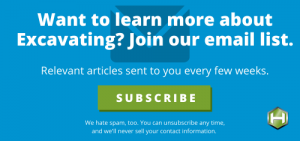 [i] https://www.groundwater.org/action/home/raingardens.html
[ii]https://www.ncbi.nlm.nih.gov/pmc/articles/PMC5663018/
Posted April 06, 2020