How to Choose the Best Site Work Contractor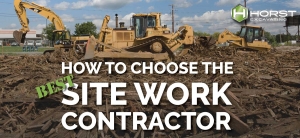 What do elementary school recesses and construction projects have in common?
Well, there's a lot of running around and shouting, safety rules need to be followed, and planning and coordination keep things running smoothly.
There's also a lot of pressure when it comes to choosing a winning team.
A successful construction project, just like winning a game, requires the right people with the right skills. This is especially apparent when it comes to your sitework contractor or excavator. While it's tempting to just go with the lowest bidder, that's not always the best strategy. As the team responsible for the preparation of the site, the efforts they make will impact all the work that follows.
Whether you're a general contractor or a project owner, this blog will help you pick the right sitework team for your project. (Hopefully, it'll be less traumatic than picking teammates at recess!) We'll take a look at:
Experience & Expertise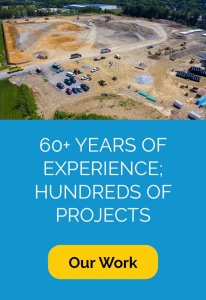 A good place to start is to look at the site work contractor's project experience, as well as the expertise of their team.
Look for projects similar in size and scope to your project. Some firms may have niches in certain industries or project types, while others serve a more general market. With consideration for the needs of your project, you should be able to get an idea of how well the team can complete your project based on their past work. Ask to see profiles on relevant projects with need-to-know information, like the size, scope, and budget.
Additionally, you'll want to get a sense of how experienced their team is. From project leadership to equipment operation, knowledge and skill are essential. Ask to see the resumes of key personnel, complete with previous projects they've worked on.
Services Offered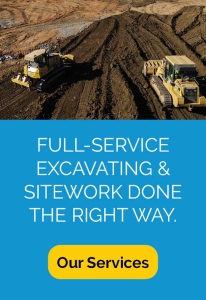 Site work services are more than just digging. Ranging from land clearing to final landscaping and plenty in between, site work and excavating contractors will likely offer a variety of services you'll need on your project. These can include:
planning & preconstruction
land development
underground utilities
road & infrastructure
demolition & land clearing
erosion control & soil remediation
Some site work contractors may have carved out a niche, specializing in one or two of these services. Others may offer all or several, acting as a full-service contractor for your sitework needs.
While there's value in specialists, having a full-service site work contractor on your roster can make things easier. If unexpected needs arise as the project is underway, they'll be better positioned to provide solutions, potentially saving you time, hassle, and even money.
Equipment & Technology
Some site work contractors have and maintain their own fleet of construction machinery while others rent. While both have their benefits, working with a contractor that operates and maintains its own fleet can make for a smoother project.
Ownership means site work contractors have more control and oversight when it comes to equipment maintenance and usage. In addition, work on your project won't stop because a specific piece of equipment isn't available to rent. Excavators with large fleets consisting of a wide variety of equipment have the resources needed to get your project done. And if unexpected conditions arise on site, they'll have a fully stocked bench to pull from.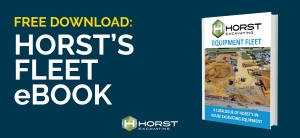 Safety Record
If safety precautions are not followed properly, accidents can lead to injuries. You need to choose a site work contractor with a track record of prioritizing the safety of everyone on site.
Ask for a company's safety policies and procedures, as well as information on any dedicated safety team members they employ. Good companies meet all local and national safety regulations, but great companies exceed them. You can also gain insight into working conditions by requesting key safety metrics like their EMR and records like their OSHA 300 and 300a logs.
While accidents happen at even the safest of companies, too many or commonly recurring accidents could be an indicator that the company needs to shift its approach to safety.
Bonding, Insurance, & Licensing
There are a few documents you may want to obtain from your selected firm before signing contracts. These documents can give insight into whether they can handle a project of your size and scope, as well as what will happen if something goes wrong.
Check their license to ensure they're fully licensed to complete this type of work in your state. You'll also want to check that they're backed by a bonding agency which will protect you in the event that they're unable to complete the project. Lastly, ensure that they're properly insured for property damage and workers' compensation.
Communication & Planning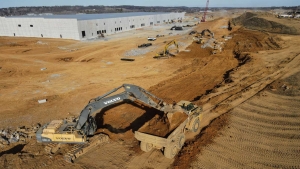 Choosing a team that embraces collaboration and communication can be one of the most important steps you take to ensure your project's success. Input from a variety of specialists, firms, and subcontractors early on in the project often leads to a more cohesive and well-informed project plan. This interdisciplinary knowledge makes for fewer unexpected challenges and changes once the team breaks ground.
And as one of the first contractors on site, your site work team can make valuable contributions to the planning and preconstruction stage of the project. Look for a site work contractor that is excited to get involved and share what they can for the good of the project.
To learn more about how site work contractors and excavators can contribute to the preconstruction phase, check out this blog.
References & Reputation
Do your due diligence by asking for and checking references. Talking to past clients or general contractors they've worked for can give you valuable insight into how they do business. Not only can you get a feel for the quality of work they do and how effectively they solve problems, but it can also show you how they treat their partners, and how easy it is to work with them.
They'll be able to shed light on their reliability, ability to meet deadlines and responsiveness to requests. It can also give insight into any potential areas for improvement, or hone in on any red flags that could cause you to question their suitability for the project.
The Best Site Work Contractor for Your Project
When choosing a team to perform the site work on your project, always keep the client's vision and goals for the project in mind. You want to assemble a team that understands and works towards that guiding light to meet the short- and long-term goals.
While it may be tempting to go for the lowest-cost option, instead take time to consider the best value option. The lowest-cost option isn't also the best suited for your job – it could end up costing you more in the long run.
At Horst Excavating, we have a full bench of talented and experienced site work professionals backed by all the equipment required to get your job done right. Let us show you our qualifications or invite us to bid on your next project!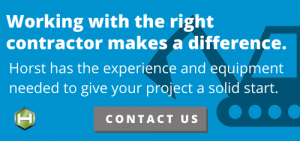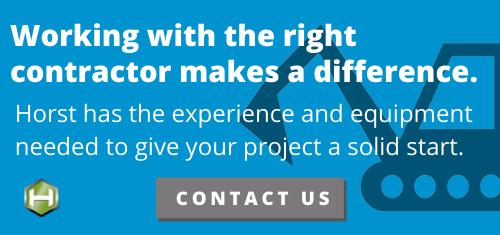 Posted March 27, 2023