The Impact of Site Work on a Construction Project's Timeline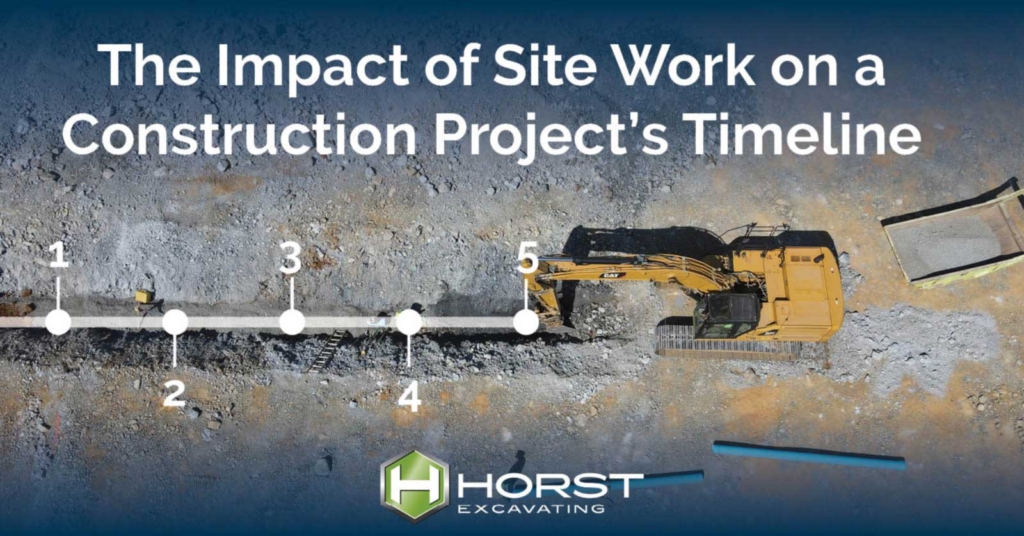 Planning and executing a construction project is a complex process with countless moving parts. Different teams work to complete their own specific tasks, and the successful completion of one contractor's work can be dependent on the successful completion of another contractor's work.
One of the most crucial components of this process is the site work package. In many cases, the site work team is among the first on site, and they're often tasked with setting the stage for the job site and laying the foundation for the rest of the project.
A site work plan that's executed successfully will keep your project moving. In this blog, we offer insight into how to make sure that's the case with your project.
What Is Site Work?
Site work or excavating involves preparing the construction site before the actual building process begins. It can include tasks like land clearing, excavation, grading, and installing utilities and drainage systems. Each of these tasks requires a thorough and accurate completion, as they're vital to the safety and stability of the site's future building.
Learn more about what site work and excavating contractors do here.
Site Work's Timeline
Site work is often the first step in the construction process, making it the inaugural domino that triggers subsequent phases. The length of the site work phase can vary dramatically, depending on the conditions on site and the needs of the building.
Specific factors that impact site work duration include the size and complexity of the project, soil type, local regulations, permitting, and weather conditions. Depending on these factors, site work could range from several weeks to several months.
In some projects, the team will complete much of the necessary site work at the beginning of the project and then head off site. For others, their work may extend well into the project, as the team works alongside other contractors.
Site Work's Impact on the Overall Project Timeline
Site work's position at the very beginning of the project's overall schedule means it can significantly impact the total project duration. Here's how:
1. Delays During Site Work
Because it's one of the first stages in many building projects, delays during site work can impact the entire project's schedule. Any hold-up during the site work phase, such as unexpected soil conditions, permit issues, or weather-related delays will directly push back the start date for the building phase.
While some delays are inevitable, an experienced excavator will plan for and work around these challenges, doing everything they can to get the project back on track.
2. Quality of Site Work
The quality of the site work performed can also influence the timeline. For instance, poor grading might lead to water pooling issues later on, requiring additional time for rework. Similarly, if utilities are not properly installed, it could lead to significant delays and extra costs.
3. Planning and Scheduling
A well-planned and efficiently executed site work phase can provide buffer time for the overall project timeline. Conversely, poor planning can lead to mismanaged schedules, equipment shortages, or overlapping tasks, prolonging the site work phase, and, by extension, the whole project.
Minimizing Site Work's Impact on Your Project's Timeline
With the right excavator in your corner, your project team can approach the planning process in a way that keeps everything on schedule. Look for the following strategies.
1. Early Engagement
An excavator or site work contractor that's eager to join in on the project's planning stage is a great sign that you're working with a reliable company. Their early involvement can provide valuable insights into potential challenges, which will help your team plan more effectively. This can lead to time and cost savings down the road.
Learn more about how getting site work contractors involved in preconstruction can benefit your project here.
2. Site Evaluations
A huge factor in how much work is required on your site depends on what lies below the surface. Unfortunately, this isn't the easiest thing to see with the naked eye. Sub-surface rock, soil conditions, and existing underground infrastructure can all cause hang-ups down the road.
Getting a geotechnical report is a great place for some projects to start. This will give your project team a better understanding of what they have to work with, allowing them to create a more realistic plan of attack.
A team of trusted and experienced architects and engineers will help to steer you in the right direction, ensuring they have all the necessary information.
3. Experienced Site Work Contractor
Hiring an experienced contractor increases the likelihood that your project will go smoothly. They'll be able to anticipate potential problems, plan contingencies, and work efficiently. They'll help keep your project on schedule, giving your new building a solid foundation to stand upon for years to come.
Finding the Right Site Work Contractor for Your Project
While site work is just one component of your overall project, it's clear that it holds substantial sway over the timeline. Recognizing its impact is the first step toward an efficient and successful project. By understanding the factors at play, you can work to ensure you and your team take proactive steps to manage them.
At Horst Excavating, our talented team wields their years of experience and our extensive in-house equipment fleet to deliver top-notch site work services that help keep your project on schedule and on budget.
From value engineering to scheduling, we can bring value to your planning and preconstruction process. Send us a message to tell us about your project today!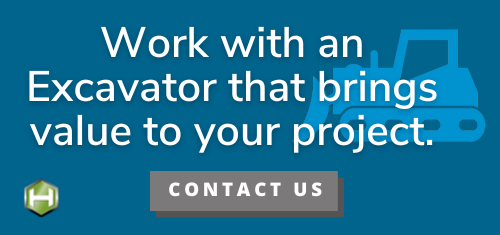 Posted August 16, 2023